Designed to be used by itself, or can be mixed with various other NPK fertilizer formulations.
Benefits
Helps raise glucose level in your crops.
Increases microbial activity in soil.
Help increase absorptions of essential minerals.
Provides instant nutrition and energy to the plant.
Helps hydrate your plant
Speedy/Even Emergence
Application Rate
Recommended to be used at a rate of 6.4-16 ounces per acre, depending on application method and reason. Product can go in-furrow, foliar, side-dress, through the pivot, and aerial. Use in accordance with recommendations of a qualified individual or institution, such as, but not limited to, a certified crop advisor, agronomist, university crop extension publication, or apply according to recommendations in your approved nutrient management plan.
CAUTION
This fertilizer is to be used only on soils which respond to molybdenum. Crops high in molybdenum are toxic to ruminants.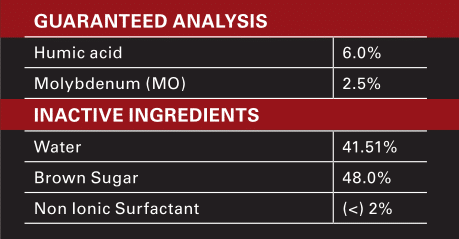 NET CONTENTS & WEIGHT
| Net Contents | 2.5 Gallon 9.45 liters | 275 Gallon 1039.5 liters |
| --- | --- | --- |
| Net Weight | 26.25 lbs/11.93 kg | 2887.5 lbs/1312.5 kg |
---
DISCLAIMER OF WARRANTIES
Nano Ag Technologies, LLC hereby excludes all warranties, express or implied. Nano Ag Technologies, LLC expressly disclaims any warranty of merchantability and any warranty of fitness for a particular purpose. There are no representations between Nano Ag Technologies, LLC and any third party other than those expressly set forth in this writing, and all reliance with respect to any representations set forth in this writing. The purchaser of any product sold by Nano Ag Technologies, LLC accepts the product "as is" and the purchaser assumes any and all risks associated with the use of the product.
10 Quail Cove W. | York, NE 68467
www.nanoagtechnologies.com
Made in the U.S.A.