Surf Tack 300 is a concentrated, ionic balance, nanotized, amphoteric bio-based, wetting agent additive. It is designed to use for all types of agricultural based herbicides, insecticides, pesticides, and various water- based products for crops.
UNIQUE FEATURES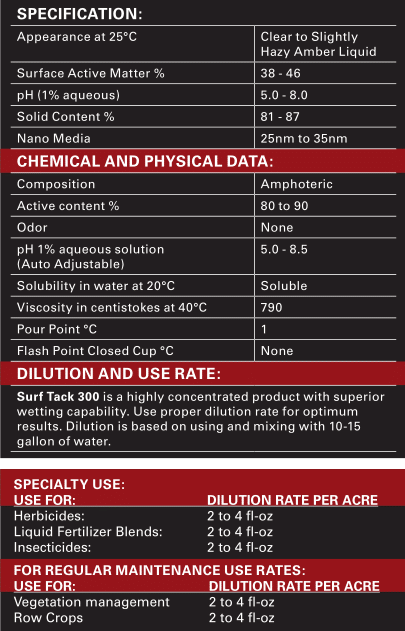 Eco-friendly, bio-based, and bio-degradable
Highly adaptive to various ionic charges
pH balance for various pH sensitive products
Fast reacting and quicker wetting
Emulsifies to micro emulsions and highly stable
Superior drift control and deposition coverage
Will not harm crops and fruits
Spray evenly with increased wetting and penetrations
Very low foaming with wide coverage capability
HELPS THE CROP PROTECTION SPRAY HIT THE TARGET
Surf Tack 300 is a highly concentrated and extremely effective, ionic balance superior wetting agent. It also performs as a drift-control agent and deposition coverage aid that helps crop protection products remain in targeted areas. Effective and easy to use, Surf Tack 300 is compatible with most water-soluble and wet-able powder fertilizers, crop protection products, desiccants, and cotton defoliants. Follow dilution rate below and use as directed for best results.
PACKAGING:
32.5 gal jugs; 275 gal totes.
STORAGE:
Store above freezing temperatures. Keep container closed when not in use.
NET CONTENTS & WEIGHT
| Net Contents | 2.5 Gallon 9.45 liters | 275 Gallon 1039.5 liters |
| --- | --- | --- |
| Net Weight | 21.5 lbs/9.75 kg | 2.365 lbs/1072.7 kg |
---
DISCLAIMER OF WARRANTIES
Nano Ag Technologies, LLC hereby excludes all warranties, express or implied. Nano Ag Technologies, LLC expressly disclaims any warranty of merchantability and any warranty of fitness for a particular purpose. There are no representations between Nano Ag Technologies, LLC and any third party other than those expressly set forth in this writing, and all reliance with respect to any representations set forth in this writing. The purchaser of any product sold by Nano Ag Technologies, LLC accepts the product "as is" and the purchaser assumes any and all risks associated with the use of the product.
10 Quail Cove W. | York, NE 68467
www.nanoagtechnologies.com
Made in the U.S.A.